Dr. Mike T Nelson's
Metabolic Flexibility E-class
NOTE: This course was created by an actual PhD in the field of Exercise Physiology, but it is still easy to understand and apply.   


How to get personal body-sculpting advice… showing you exactly how to REALLY lose weight… while at the same time maximizing the shape of your body according to YOUR personal desires (for both men and women)…
…by using the same principles I taught to an elite government military agency in November 2010 along with even newer techniques and tricks I've discovered.
Dear Friend,
If you're at all interested in losing weight and sculpting your body to be as perfect as scientifically possible… then this will be THE most important webpage you will EVER read.
Here's what it's all about:
My name is Mike T. Nelson, and I've spent 17 years (and still counting) researching and testing how to sculpt my body according to how I want it to look.

17 Years of Research, Trial-and Error,
and Some Good Old Fashioned Cheating…
But the REAL RESULTS came after I hired four of the world's top performance experts – to find out what they knew, that I didn't yet uncover in my personal research.
I flew to California to spend four days with Dr. Peter Rouse at AF Performance going through his nutrition certification, just to learn a few tips that helped one of my clients drop 28% more fat in eight days than he had dropped in the previous three months.

I went to the Experimental Biology conference to meet and swap idea's with top researchers in exercise physiology and nutrition. And what they shared with me at dinner helped me (and two of my other clients) to recuperate an average of 43% faster from our workouts!

I've spent countless hours brainstorming with one of the top 5 strongest grip men in the world. And there's literally hundreds of small tactics that he and I developed together. Tactics that add at least 30% extra strength to EVERY client I've ever shared them with!
Those lessons cost me thousands of dollars, but it was worth every penny because my physical fitness is priority #1!
But what does this have to do with you?
Glad you asked…
What I learned – when properly applied – gave me the ability to burn fat down to an optimal percentage, build as much muscle as I desired, and gain more strength than I EVER had in the past…
…but more importantly, it showed me how to focus those changes directly on specific parts of my body.
And now… after getting FED UP with all the scams in the health industry…
I've decided to offer my PERSONAL guidance to highly-motivated people.
If you're one of the chosen, I guarantee you WILL have the knowledge, techniques and personalized help to…
Sculpt Your Body Into Its
BEST Shape EVER – Even If You've
Had Joint Injuries In The Past!

Bold claim? Yes…
But here's why I can make such claims:
I have a PhD in Exercise Physiology at the University of Minnesota. And more specifically Metabolic Flexibility. In short, how fast you can switch from using fat as a fuel to using carbs and back again will determine your Metabolic Flexibility. Why is that important? Because the more you can teach your body to use fat as fuel, the more fat you will literally burn away. (This will be the basis for what I'm going to show you).

I have completed actual research in a real lab. (My research was on noninvasive ways to measure Metabolic Flexibility).

I regularly present research at seminars like the American College of Sports Medicine National Conference (an annual conference featuring all the latest health science).

In June 2011, I presented to the International Society of Sports Nutrition. My presentation was called "Metabolic Flexibility: Eat Like Crap, Look Like Gold?" Again, this is the basis for what I'll be showing you (if you choose me as your coach)!

 I have presented to the National Strength and Conditioning Association (NSCA). My presentation was titled "Walk Before You Run: Efficient Athletic Movement."

Co-author of the academic book Protein and Strength Athletes featuring top researchers in protein from around the world. (Such as Dr. Peter Lemon, Dr. Lonnie Lowery and Dr. Layne Norton.)
I also co-wrote a chapter on dietary fat for the  Sports Nutrition and Performance Enhancing Supplementstextbook to be published by ISSN. (This book will probably be used by colleges nationwide in PhD level courses.) The chapter I co-wrote is titled "Effects of Dietary Fat on Health and Performance."

I currently teach Nutrition at Globe University, and I have taught at Michigan Tech University (1997) and the University of Minnesota (2006 – 2011).

I've been a research consultant to the government agency responsible for keeping our troops in peak performance… and in November of 2010, they brought me in to deliver a presentation titled "Metabolic Flexibility: Optimal Energy Under All Conditions." The summary was: "How can training and nutrition help optimize soldiers' performance." This agency is extremely picky about who they let speak – you have to be FULLY vetted. It was an honor to be among so many top-rank people. It was really a highlight in my career so far.
…that presentation is STILL classified.

I've been featured in Men's Health magazine (March 2012 issue)

And

 Muscle & Fitness Her's magazine (January 2010 — re: fat loss)

And Experience Life magazine (June 2012)

And again in Experience Life magazine 

in the November 2012 issue there was a full article featuring me about using Intermittent Fasting for fat loss and performance.

While not a print magazine and a more hard-core crowd, I've written for T-Nation. These guys are all about the absolute highest performance bodybuilding that can be done using current science.
I'm not showing you this stuff to brag… I just want you to see I've got the credentials, and expertise and track-record to back up my claims… (not to mention my clients' success stories!)
And if you are accepted into this e-class, I'll use every drop of my expertise to help you to lose fat and sculpt your body according to how you want to look – regardless of your age or previous injuries!
Heck, I even created a Facebook Page so that you can have direct access to me!
We can exchange videos of you doing certain exercises, and I'll give you feedback on your technique. Or ask me anything health related! Anything at all!
NO BS, NO fluff, NO excuses – you WILL reach your goals this time with personal coaching from me.
I rarely do anything this personalized since it takes a LOT of my time… but if you join this program – you'll have my full attention!
I've never revealed these techniques to the public… (actually, some of it IS related to my presentation to Elite Military Research- but other than that, this stuff has not been taught by me anywhere else).
…and once again…
Our private Facebook group will only be accessed by a
select few where I'll be sharing with you tweaks and tips
to personalize every piece of your fitness puzzle!

More than that:
If you don't see noticeable results in just the first week – let me know, and I'll immediately refund your tuition! 
No questions asked. Period.
I'm taking ALL the risk here… because I've seen every one of my other clients get amazing results!
In fact, here's what those other clients have to say: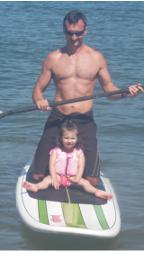 I Lost 9 Pounds of Fat, Gained 2 Pounds of Lean Muscle, and Ran Faster!
— Curb Ivanic, MS, CSCS
"As a trainer, coach and recreational endurance athlete I wholeheartedly recommend Mike's class to improve your fitness, body composition and performance.
Earlier this year I took Mike's class and used the information to improve my own fitness and health as well as that of my clients.
Personally, I dropped my bodyfat down to 9%, and lost 9 lbs, with almost all of that being fat. My lean mass actually increased by 2 lbs. during this time.
In terms of performance I increased my body's ability to utilize fat for energy which made it possible for me to go for 3 hour mountain runs, climbing 2,000 – 3,000′ and running at 80 – 85% of my max. HR.
Mike's help was a big part of being able to place 3rd in the 40-49 age group in a grueling 30 mile ultramarathon in hot, humid conditions. 
I have a Master's degree in Exercise Science and have been training professionally for 12 years. I continue to put in at least 5 hours each week reading studies and books so I'm confident that I can smell a fake a mile away.
Mike's the real deal. His approach doesn't involve gimmicks, fact twisting or unproven methods.
Mike's detailed approach is backed by sound research and practical experience. I've incorporated it into my own coaching practice to help my athletes and clients.
If you're looking to lose body fat, improve your performance or feel better take then you need to be in Mike's class now!"
---
"My results have been great, beyond what I had hoped for!"
— Roland Fisher, Nutrition Coach
"Mike's E-Class is full of fantastic information. I've been in the industry for decades now. Years ago, if I had known what Mike teaches, I wouldn't have suffered through so much trial and error, learning the hard way.
My results have been great, beyond what I had hoped for…
I started post surgery on my hip and post injury on my shoulder. It was certain I'd need surgery on my shoulder. I was also told I'd likely never squat again and I should accept it.
Knowing that Mike is a freaking walking encyclopedia, I was hoping he could get me to the point that I could do a push up and squat again…
Fast forward 5 weeks and not only am I doing those things, I'm doing EVERYTHING I used to do and I'm getting stronger every single workout.  Amazing!
If a twenty some year veteran can walk away with as many lessons as I did, anyone can benefit!"
---
"Lost 17 pounds including 3 inches off my waist while
gaining several pounds of muscle!"
 — Tyler S., Minnesota
"I just want to put out a huge 'Thank You' to Mike for the E-Class.
The multimedia delivery format and personal access for questions was spot-on to convey the concepts of Gym Movement and Metabolic Flexibility.
Mike really under-promised and over-delivered!
I've lost 17 pounds including 3 inches off my waist while gaining several pounds of muscle.
I've actually been able to resolve several long-standing issues with back, neck, foot, hip, and wrist pain.
I've tried chiropractic, acupuncture, and every type of stretching, yoga, and joint mobility practice that claimed pain relief with only limited results.
Now I seldom wake up with the pain or headaches that was a daily occurrence for years. I feel like a new man! Thanks, Mike!"
---
"I Highly Recommend This!
— Gary Premo, New York
"During the Eclass I broke tons of PRs (personal records) such as:

I did 100 187lb swings in less than 10 minutes.
I pressed the 28kg kettlebell with both arms consistently for reps (an elbow overuse injury stopped progress in the past). My elbow now feels great!
I easily deadlifted 275lbs at a bodyweight of only 136lbs. I probably could've done 300 or more but hitting 2x bodyweight was cool enough for one day.
In the past two and a half months I've put 3 inches on my chest/back, 1″ on my arms, and just under 1″ on my forearms.
Everything else is more muscular as well while even keeping my body fat levels really low.
I'm continually improving in a wide variety of movements, as opposed to just a few before. I move better than ever.
I'm generally pain free, and whenever I do have pain I can resolve it quickly.
I highly recommend this way of training! Thanks again Mike. It's been great!"
---
"Dropped 8 lbs and 4% body fat! Lost 12 inches total from
waist, hips, thighs, and arms!"
— Amy Jurrens, Iowa
"Mike's Eclass provided me with tons of useful information that I could apply immediately.
It was fun to see how quickly my body would respond to these techniques.
Here are some of my results:
Dropped 8 lbs and 4% body fat
Lost 12 inches total from waist, hips, thighs, and arms.
Mike delivered the material in a convenient format and in language a non-scientist can understand.
If I hadn't taken Mike's class, I wouldn't have any idea how use exercise and nutrition in conjunction with fasting to build the body I want.
The best part was having access to Mike when I had questions. That was worth the price of the class alone!"
---
"I Dropped 3 inches Off My Waist,
Added Size & Strength To My Shoulders,
and Overall Got Far Stronger!
— Peter Baker, Tampa, FL
" I am Peter Baker and when I started using the ideas outlined in Mike's online training class, I was not nearly as strong as I am today!
Today, I can strap 75lbs of weight to my body and do 8 good pullups.
Seven months ago, I could barely do 2 pullups on a good day with half that amount of weight! Plus I tacked on over 30lbs to my squat!
I dropped 3 inches off my waist, and added size and strength to my shoulders.
I highly recommend Mike's program, no questions asked!!!
…and I still eat pizza and pop tarts sometimes too :)"
I've done the math and my clients have on average:
Lost 7-13 lbs of fat in 5 weeks
Had around a 50% increase in strength
Had around a 70% reduction in joint pain
…in fact, several people started with pain and ended leaner, stronger and without ANY pain!
Now, besides access to me (which alone is worth thousands per month in personal training fees)… here's everything you'll get by joining this class:

Here's Exactly What You Get In This Coaching That Will Lead You Through Five Weeks Of
Your FASTEST Body Shaping Ever…
You Get…
SIX weeks of my personal hands-on best-buddy style guidance.

5 weeks of step-by-step instructional videos delivered directly to your email (the main class).

5 weeks of results-producing tactics for fast fat-burning & muscle-sculpting. Great for men or women.

Access to a private Facebook group where I'll be sharing customized advice for YOUR body.
Week 1
Metabolic Flexibility: Why it matters.

How to use "metabolic leverage" to your advantage.

#1 thing your body is perfectly designed for (and why you MUST consider it or you are doomed to fail).

How to burn more fat every hour of the day.

Why a super low carbohydrate diet may NOT be the best for everyone.

A major hormone that affects your fat loss results (and how to control it).

Eustress vs Disstress and why it matters to your results.

Why "eating clean all the time" is a total myth.

How to set your workouts so you never hit a plateau again (very simple to do).

Which macronutrient to focus on first and why.

What really drives muscle growth and how to speed it up (which helps you burn more fat).

Do you really need to eat immediately after training?

A very simple, FAST meal plan template to drop fat and get strong.
Week 2
How complexity leads to simplicity

How ice cream sales are related to your fat loss results.

How this one hormone controls 10 different processes related to your new body.

What your fat cells do all day and why it is important.

This compound in high amounts is very toxic and how you can control it.

What 2 simple things to look at in your blood work to monitor your metabolic health.

How to hijack carbs and make sure they don't go to your fat cells.

Is low intensity cardio the best way to drop fat? (Here is a hint…NO!)

How to monitor your training to make sure you are on the right track.

How to leverage this good 4 letter word for faster results.

The 3 most important things to track in your training (that almost nobody tracks).

Pounding yourself into the ground is NOT the answer, what to do instead.

Fatigue vs performance fat loss models.

Do calories really matter?

Fasted cardio is worthless?

Heart Rate Variability (HRV) – a way to super charge your results?

PFTC – why you do NOT want to do this one!

The specific action steps you need to take this week.
Week 3
Does eating veggies help weight loss?

Micronutrition: What is it and does it matter.

Conscious restriction is NOT the answer. Seriously, it is NOT!

The size of your fat cells matters not only for how you look, but how your body works.

Less fat and less cancer?

Better; not optimal.

Simple and easy to use nutrition tips in the kitchen.

5 nutrient powerhouses (that are inexpensive also).

Why rare fruits from the depths of the Amazon harvested by a native with two piranha stuck to his butt are NOT needed.

Are GMO crops ok?

The rainbow solution (aaaaaah).

A natural way to relieve joint pain with an item that is in every grocery store (but is normally not prepared correctly).

My favorite fall recipe to accelerate your fat loss.
Week 4
What you really need to know about energy systems (don't worry, it is easy).

How most get biochemistry dead wrong (and it impairs your results).

Marathon runner vs the sprinter – pros and cons of each for better body composition.

Lactic acid is a total myth (and why you need to know about it).

The number factor to look regarding energy systems to speed up your results.

Which supplements help and which are a total waste of time and money.

One amazing supplement that is cheap, not a stimulant, increases health, and fat burning.

All research based (23 studies were used in this section alone).

How to easily burn more fat when you exercise (trying harder is not the answer).

Is creatine monohydrate worth it or will it destroy my kidneys?

Step by step break down of exactly what to focus on for this week.
Week 5
Is just not eating an answer?

3 commons myths about your metabolic rate that are killing your results.

Intermittent Fasting – amazing for results or destroyer of your metabolism?

3 factors to make going longer between meals super easy.

Do I have to use intermittent fasting? Nope, but it works great.

Meal spacing, what is best?

Why forcing physiology is a HORRIBLE idea and is not needed.

You are what you digest, not just what you eat.

100 trillion of these guys live in you (and why they matter).

The final frontier of fat loss.

Gut health 101 – how to repair your gut once and for all.

Advanced topics – stress modulation, sleep quality, weight variability, and more.

Ultimate summary – what to do with all the information in a step by step manner.
I want to be brutally honest here and give you a friendly warning.  Although this 5 week system works fast, it's not another "quick fix" or "short cut". If you're looking for the easy way out, this program is NOT for you.  
Listen up – one last thing:
If you were to hire me as a personal trainer I would charge nothing less than $200 per hour. And even that would be a bargain given my previous clients' results!… and what other personal trainers are charging.
But with this e-class you are getting pretty much the same thing.
Actually, I take that back… you get MORE. You get an entire SIX weeks of access!
And the thing is, this e-class doesn't require me to travel or do 1-on-1 phone calls (it's all through a private Facebook group)…
… so I can actually train & help MORE people, more conveniently!
That's why at the moment I'm offering this at a measly $197. Which is nothing compared to what other personal trainers charge.
And just so you know:
I really do want to help you! I'm not just in this for the money. If that were the case, I wouldn't be offering something which is limited by my time.
…I would package this stuff up into an e-book and sell it on Amazon.
Yeah money is great, but I want to help people REALLY achieve physical fitness. And PERSONALIZED help is the best way I know to do that…
(I really believe this class will be the one that changes your life!)
…so click the "Add To Cart" button below to sign up before there are no spots left. 
(If you see a Sold Out message, I'm very sorry you missed out and perhaps I'll put on another class in about six months time – but probably for $397 or $297 instead of $197)…
I'm truly looking forward to meeting you in the first class!